Welcome to the Countertops category for the Sir Grout Central New Jersey Blog. Here you'll find blog posts related to stone and tile countertops that we've restored. See the amazing transformations with the included before and after pictures. Feel free to share and leave your comments.
Published May 09, 2022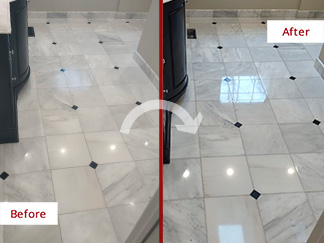 Our Stone Polishing Techs Recovered the Luster of These Natural Stone Surfaces in Evesham
A couple from Evesham, NJ, was coming back home from a family trip. When they arrived, the wife couldn't help but fixate on the condition of their marble floor. These marble surfaces were once beautiful and gleaming. Unfortunately, they now looked dull and worn out after being victim to lots of wear and tear.
READ MORE
Published March 02, 2020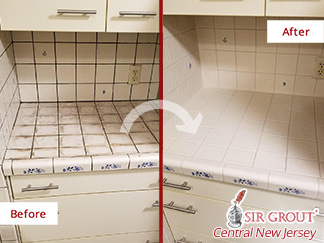 See How A Grout Cleaning in Elmer, NJ Enhanced the Appearance of this Kitchen
Much like every piece of furniture, hard surfaces are exposed to daily wear and tear. No matter how much they're cared for, the damage is unavoidable and there will come a time when hard surface restoration is needed.
READ MORE