Welcome to the Slate category for the Sir Grout Central New Jersey Blog. Here you'll find blog posts related to slate surfaces that we've restored. See the amazing transformations with the included before and after pictures. Feel free to share and leave your comments.
Published December 07, 2018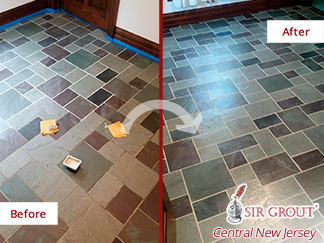 This Damaged Slate Floor Received a Complete Overhaul Thanks to Our Stone Cleaning Service in Wall, NJ
Natural stone surfaces such as slate, marble, and granite require proper maintenance in order to keep them looking beautiful and in good condition. Slate, while it is not the most common flooring choice, offers many benefits and features. Its most notable characteristics are durability and versatility.
READ MORE