Welcome to the travertine category for the Sir Grout Central New Jersey Blog. Here you'll find blog posts related to travertine surfaces that we've restored. See the amazing transformations with the included before and after pictures. Feel free to share and leave your comments.
Published January 07, 2019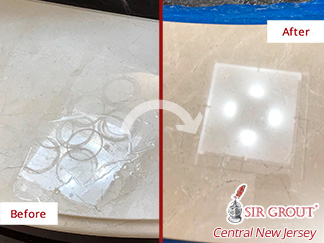 Our Stone Honing Experts in Princeton Township, NJ Helped This Law Firm's Beautiful Travertine Front Desk Regain Its Shine
No matter how great your employees are, smudgy desks and dirty floors will likely keep old and new customers away from your law firm. To the owners of a law firm in Princeton Township, NJ, the importance of a good first impression was clear from the beginning.
READ MORE
Published November 09, 2018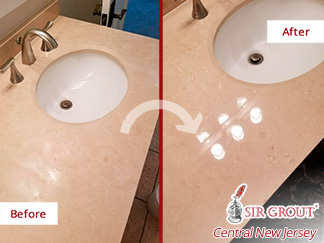 A Top-Notch Stone Polishing Process in Moorestown, NJ Brought Back the Life to This Travertine Vanity Top
Travertine has become a popular choice for vanity tops. It is a less expensive but sophisticated-looking option for bathrooms. Travertine offers durability and versatility at a reasonable price point. For this reason, it has been used in many structures around the world.
READ MORE