This Antique Marble Table in Wall, NJ, Shines Beautifully After a Remarkable Stone Polishing Service
November 03, 2023
Marble surfaces are stylish and beautiful. However, it is essential to remember that they can decay, becoming dull and unappealing. Depending on the issues, the restoration might require more than some DIY guides. A resident from Wall, NJ, had a fabulous red marble table. It was a gorgeous family antique, but it deteriorated and lost its shine and beauty. The owner wanted a gleaming surface, so she considered her options and sought professional assistance.
To find a quick solution, she searched online for
stone polishing services in Wall, New Jersey
. The top results led her to Sir Grout Central New Jersey, and our user-friendly website, she performed extensive research. After reading some of our blogs and going through the five-star reviews we receive daily, she was convinced we were the best option. Hoping to solve her problem immediately, she called us and requested a free evaluation.
Later that week, we arrived to provide an in-home consultation. The owner was expecting our visit and warmly welcomed us. She explained the situation in more detail, and we began the assessment. We immediately noticed that the stone looked dull and unappealing as we inspected the table. It had lost its shine and was stained, which gave the surface a run-down appearance. Furthermore, it needed sealing. It was necessary to address this issue as external agents could cause more damage to the surface. Therefore, we recommended the application of a special sealant to preserve the stone and maintain its appearance.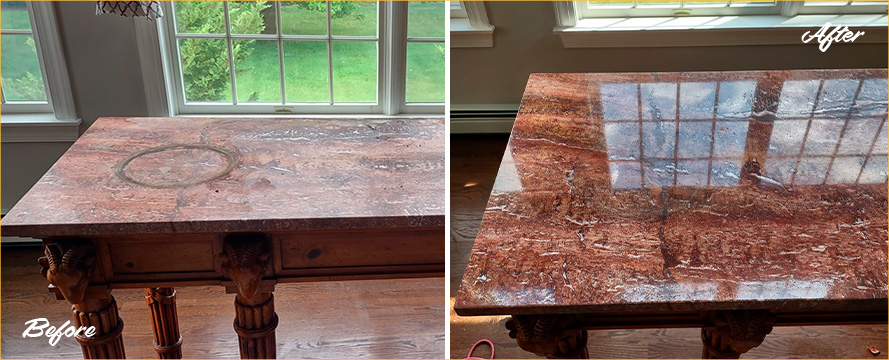 Upon concluding our thorough inspection, we discussed a solution with the owner. We proposed our stone polishing services as we discovered that the marble table would require professional treatment. Our exceptional restoration process would address the damage, revamp the surface, and restore its shine. The owner was happy with the assessment, and the offer met her expectations. With no hesitation, she decided to hire us for the job.
Following the inspection, we went back to our client's house to start the restoration. We set up the necessary equipment and then proceeded with our multi-step process. Our first step was to clean the surface using our exclusive stone-safe cleaner, which is made with high-quality ingredients and doesn't leave any residue, thus preventing damage. Once the surface was clean, we were ready to hone the stone.
With this procedure, we would address all the issues and rectify the damage. To accomplish this task, we geared up our professional diamond honing pads and ran several sets, increasing the level of grit on each one. This process continued until there was no sign of deterioration. After honing, polishing is necessary to bring back the shine to the stone because it acquires a matte finish. We polished it using a series of high-end powders, giving the surface a glossy appearance. The table had a beautiful gleam when we finished, and we continued with the sealing process.
We completed this final step by applying a protective sealer to the stone. Our product offers unparalleled protection, preventing dirt, grime, and other external agents from affecting the surface, ensuring long-lasting results. This helps to reduce deterioration and simplifies maintenance. Our sealers also effectively repel UV rays, making them ideal for areas with high solar impact. Additionally, the sealed surface is beautifully enhanced, and the protection can last long with proper care.
We performed every restoration step with great care and attention, thoroughly revamping the surface and giving the table a stunning new shine. Once we had accomplished our goal, we called our client and presented her with the results. When the owner came in and saw the marble surface, she was pleasantly surprised and thrilled with the outcome. She was delighted with the shiny stone and relieved that all the problems were resolved. She expressed her gratitude sincerely and assured us she would recommend our services to everyone.
Marble is a beautiful natural stone that offers style and durability. However, the stone is susceptible to damage and requires proper care. Following our recommendations is essential to achieve optimal maintenance procedures. We suggested setting up a weekly cleaning routine using only pH-neutral, soap-free cleaners like
Sir Grout's Natural Hard Surface Cleaner
. Our product has no competition, providing excellent results and many benefits. It is also non-toxic and safe for everyone in the house, including pets.
We don't recommend using soap-based cleaners or substances with acidic properties. These products contain harsh agents that can hurt the stone, causing dull spots, etching, and other issues. Never leave liquid spills lingering for long periods, and keep the surface dry using a towel or a terry cloth. Don't use abrasive tools because they can scratch the stone.
As you can see in the before and after pictures, Sir Grout Central New Jersey's stone polishing experts can restore shine to your dull marble surface. Please don't wait any longer and contact us today by calling
(732) 551-3737
or by
scheduling a free quote
. If you would like to see more, check out our
picture gallery
. Please consider subscribing to our
newsletter
, so you don't miss out on our latest promotions and updates.