Sir Grout of Central New Jersey Named Rookie of the Year
Sir Grout announces Sir Grout of Central New Jersey to be this year's "Rookie of the Year."
Manasquan, NJ - (PRWEB - March 03, 2015) - Every year, Sir Grout holds an annual
convention of tile and grout experts
in Estero Beach, FL, which can be read about in greater detail on its blog. The purpose of this meeting is to inform its franchises of any industry updates and to provide additional training to its team, which is especially helpful for the newest franchises who are just beginning to learn the ropes. In addition, this gathering is used by Sir Grout as an opportunity to reward its highest performing franchises by presenting them with awards and, at this year's award ceremony, Sir Grout of Central New Jersey received the title of "Rookie of the Year."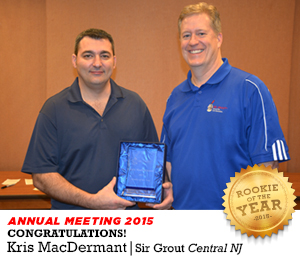 The "Rookie of the Year" award is an encouraging honor for new franchises. While the older Sir Grout locations have had more time to perfect their business operations, only the recently established locations are contenders for the exclusive title of "Rookie of the Year." However, even so, competition for this distinction still exists since Sir Grout is constantly adding new locations across the country. Some of its newest franchise locations in the past year include: Southwest Missouri, Bay Area, Denver, Baltimore, and New York.
The Central New Jersey franchise was certainly deserving of the "Rookie of the Year" award. Although it's still in its infancy stages, it has already learned the primary key to doing well in this industry: customer satisfaction. Accordingly, it has built its foundation around always exceeding the expectations of every customer, allowing it to win the Super Service Award, Angie's List's highest honor, for its impressive work in 2014.
Kris MacDermant, owner of Sir Grout of Central New Jersey, was pleased to hear of his company's accomplishment. He stated, "The way to succeed is to give people exactly what they request, and then go the extra mile: literally and figuratively. One of the ways we do this is by providing a variety of services in a wide expanse of areas across Central New Jersey. So, whether someone is seeking the best
Middletown Tile and Grout Cleaners
or is in need of expert stone restoration services in Atlantic City, we've got them covered." MacDermant's strategy seems to be a sound one, as his franchise is already off to a great start.
To request a free, in-home estimate from the hard surface restoration experts at Sir Grout of Central New Jersey, they can be reached by calling (732) 551-3737 or by going online to
www.sirgroutcentralnj.com
, where before and after pictures as well as video testimonials can also be found.